About Game-U LIVE
Who we are, and what we do
Our Philosophy
We believe in the individual. Because we are convinced that learning shouldn't be limited by arbitrary guidelines or rules, we work with students of all ages and abilities to help them realize their potential. Whoever you are, wherever you are, you fit right in to our community and our vision. We want to take the limits off learning. 
What We Do
Through livestream classes, students can study game design, art, 3D modeling, programming, and more. Our curriculum encourages students to pursue their own interests at their own pace, building flexibility, individuality, and accessibility into the very fabric of our programs.
Meet Our Team
Learn about the instructors behind our LIVE classes
Rebecca Lilley
Nickname: StoryGirl
Level: Professional
Years of Experience: 5
Favorite Game: Breath of the Wild
Favorite Movie: Jumanji 2: The Next Level
Specialty: Code
Rebecca graduated Liberty University with highest honors and a bachelor's degree in Applied Web Technologies. Her expertise includes desktop and mobile app development, web development, and programming. She works with the C#, Java, Visual Basic, Python, HTML5, CSS, JavaScript, and PHP languages.
Cameron Hillman
Nickname: capttissues
Level: Professional
Years of Experience: 5
Favorite Game: Portal 2
Favorite Movie: Lord of the Rings Trilogy
Specialty: 3D Modeling
Cameron graduated with a B.A. in Information Technology and an A.S. in Interactive Multimedia. As a contractor, he completed various 3D modeling and texturing work for several different businesses, including two game studios and a museum. Cameron's skills include Unreal Engine 4, 3DS Max, Substance Painter, Blender, Mudbox, Zbrush, Quixel, and Photoshop.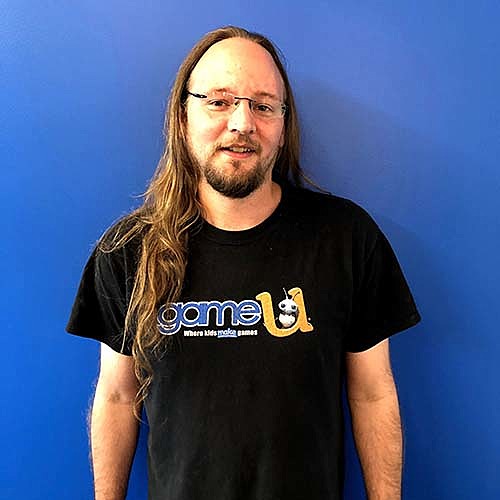 Adam Coleman
Nickname: Etrnlmagus
Level: Professional
Years of Experience: 22
Favorite Game: Magic: The Gathering
Favorite Movie: Stargate
Specialty: Dungeon Crawlers
Adam, a veteran of the United States Army and an avionics software engineer, specializes in I.T. and programming. He hails from S.U.N.Y. (State University of New York), where he earned his Associates in Applied Science: Computer Technology, A+Certification, and Microsoft MCSA: SQL certification.
Anisah Syed
Nickname: nimujen
Level: Professional
Years of Experience: 17
Favorite Game: World of Warcraft
Favorite Movie: Urusei Yatsura 2: Beautiful Dreamer
Specialty: Manga
Anisah earned her bachelor's in Information Technology and Informatics from Rutgers University, and her master's in Digital Imaging and Design from New York University. She's certified in Character Art and ZBrush and her portfolios include 12+ years of beautiful illustrations.
Zac Pierce
Nickname: ZacFierce
Level: Professional
Years of Experience: 5
Favorite Game: Super Smash Bros. Ultimate
Favorite Movie: Inception
Specialty: Game Experiments
Zac's a graduate of the University of Akron, holding a bachelor's degree in Computer Science with a minor in Entrepreneurship. As a professional contractor who teaches game development at local high schools, Zac published Bombfest (Jan. 2019) and helped create the Switch release of Earth Night (Dec. 2019).
Justin Melendez
Nickname: ReaperDev
Level: Professional
Years of Experience: 5
Favorite Game: Hollow Knight
Favorite Movie: Dead Poets Society
Specialty: RPGs
Justin is a Unity Certified Developer and a recipient of the Programming for Everybody (Python) certificate from the University of Michigan. Justin is proficient in both Mac and Windows operating systems as well as in a variety of languages and software, including Unity, Maya, Blender, Photoshop, Premiere, Illustrator, Clip Studio, ZBrush, Python, Java, and C#.
Rich Lee
Nickname: RichNice
Level: Professional
Years of Experience: 5
Favorite Game: Dragon's Lair
Favorite Movie: Avengers
Specialty: Action Adventure
A graduate of Howard University, Rich worked in Brooklyn for ten years teaching a variety of students, many of which had special cognitive or emotional needs. Rich's past experience includes video journalism, recording and editing for TV, and studies in modeling, rigging, animating, and compositing in 3D for visual effects, as well as game development. In addition, Rich is a professional videographer and is exploring VFX with Blender and Maya.
Cedric Chang
Nickname: Cheddar
Level: Professional
Years of Experience: 3
Favorite Game: Super Smash Bros.
Favorite Movie: The Return of the King
Speciality: Absolute Beginner
Cedric holds a B.A in Physics with a correlate in Mathematics. He was the program manager for a STEM education company in California, and was instrumental in the creation of their year-long STEM program currently being implemented in schools throughout Orange County. Cedric is also a classically trained cellist and can often be found performing with others in symphony orchestras and small chamber groups. In his free time, he enjoys gaming, tabletop RPGs, table tennis, and rock climbing.
What People Say about Game-U LIVE
Testimonials from our students and their parents
I think Game-U LIVE is a bargain. I love all the different classes my son can take for one monthly price!
"I love that I can be in my house and be able to learn game design and coding. I also love that I can go back and re-watch the videos as I work along with them at my own pace. And the instructors are great too!"
"I liked the LIVE program. It was easy to get help. The instructors were nice and helped me a lot. I also liked that you can watch prerecorded videos not just livestreams."
"Game-U LIVE has been such an awesome experience. My instructors are top notch. I look to see what Livestreams interest me and I sign up. The best part is I get to relax at home, interact with new friends and strengthen my skills."
"Game-U LIVE is a parent's dream. The convenience alone is worth so much. My son gets to learn & have fun from the comfort of our home and our family schedule is not impacted."